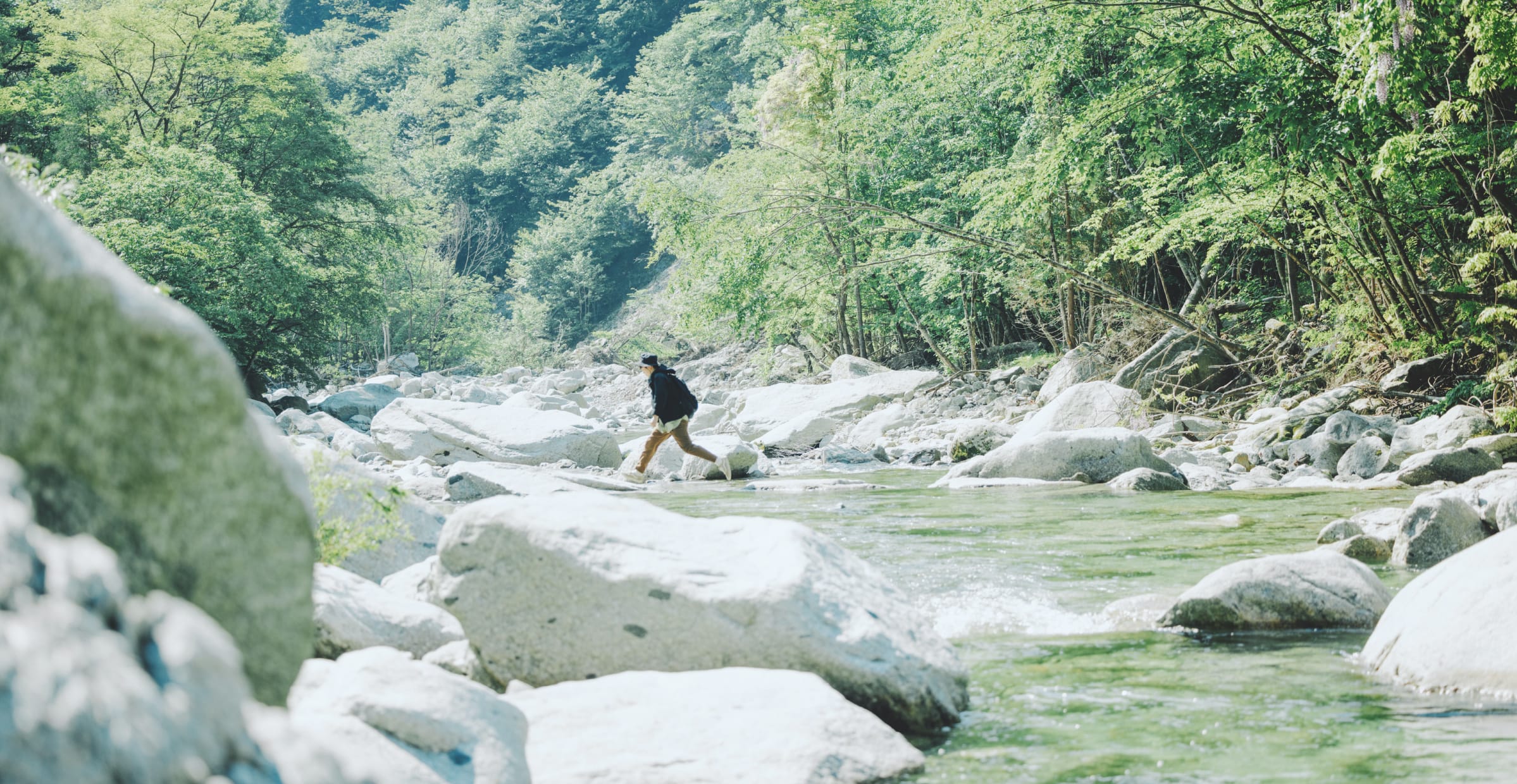 Bringing nature's best
ingredients together,
to make the best confections
Originally in Japan, there is a concept of "shindo-fuji," which means that eating locally grown food in season is good for one's health. This idea provides an opportunity to learn about the culture and climate of the region in which we live, and leads to food education and love of one's hometown. We know that sweets made with ingredients from a place surrounded by nature, where the air is crisp, the water is clean, and the wind is pleasant, are the most simple and tastiest.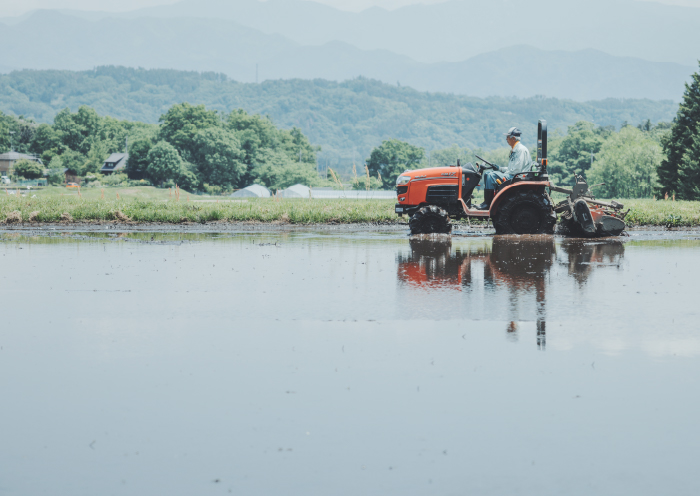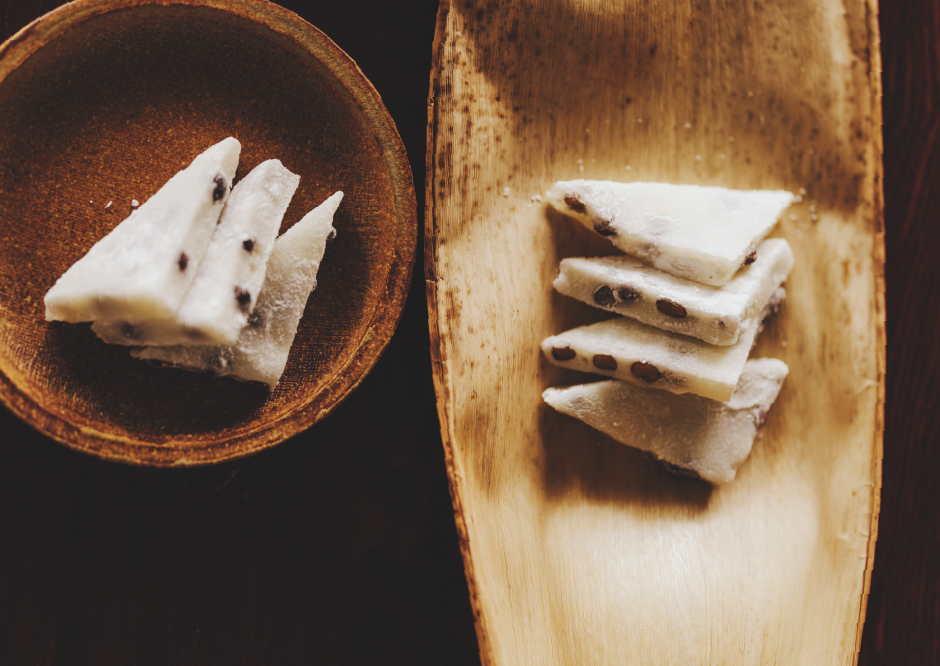 Delicious sweets
that embodies
the area's
clean air and water
It has been more than 120 years since we have been making sweets filled with inspiration, capturing the feel of the area's crisp, clean air. We want as many people as possible to know about the beauty of this land, and we are committed to using local ingredients that concentrate the power of the land and deliver them to you in the form of confectioneries.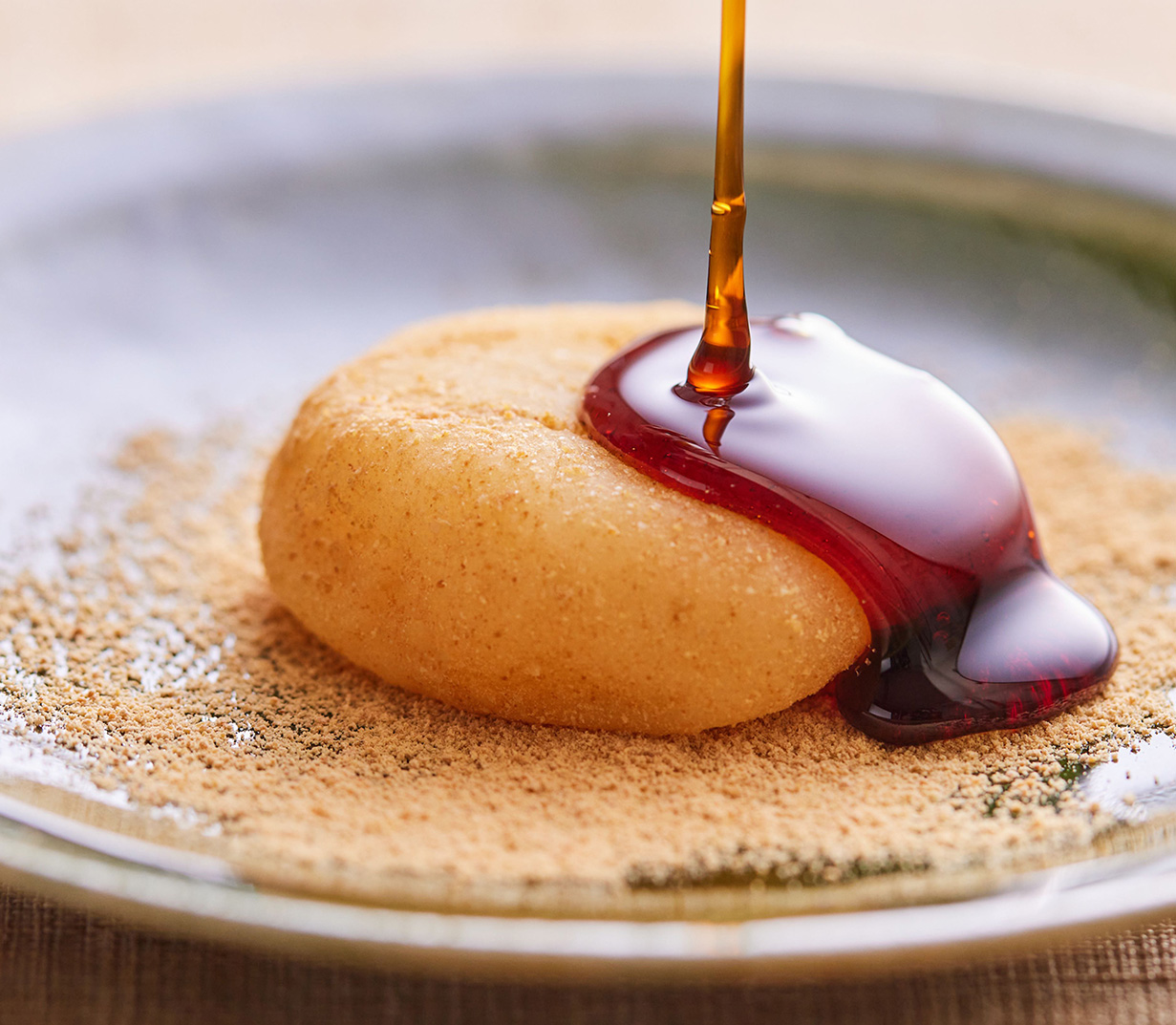 SHINGEN MOCHI
Shingen Mochi, a classic Yamanashi souvenir
from Kinseiken, named after the famous
Warlord Shingen Takeda
Shingen Mochi, a popular souvenir from Yamanashi, is a real rice cake that is eaten in the style of the cut rice cake that Shingen Takeda ate when he went into battle, with a generous sprinkling of brown honey and soybean flour.
Shingen Mochi is made from simple ingredients such as sugar, rice flour, molasses, and soybean flour. Since the taste of the ingredients directly affects the taste of the sweets, only carefully selected ingredients of the highest quality are used, and no preservatives or synthetic preservatives are used. You can taste its delicious ingredients with no hidden tricks. That is what Kinseiken's Shingen Mochi is all about.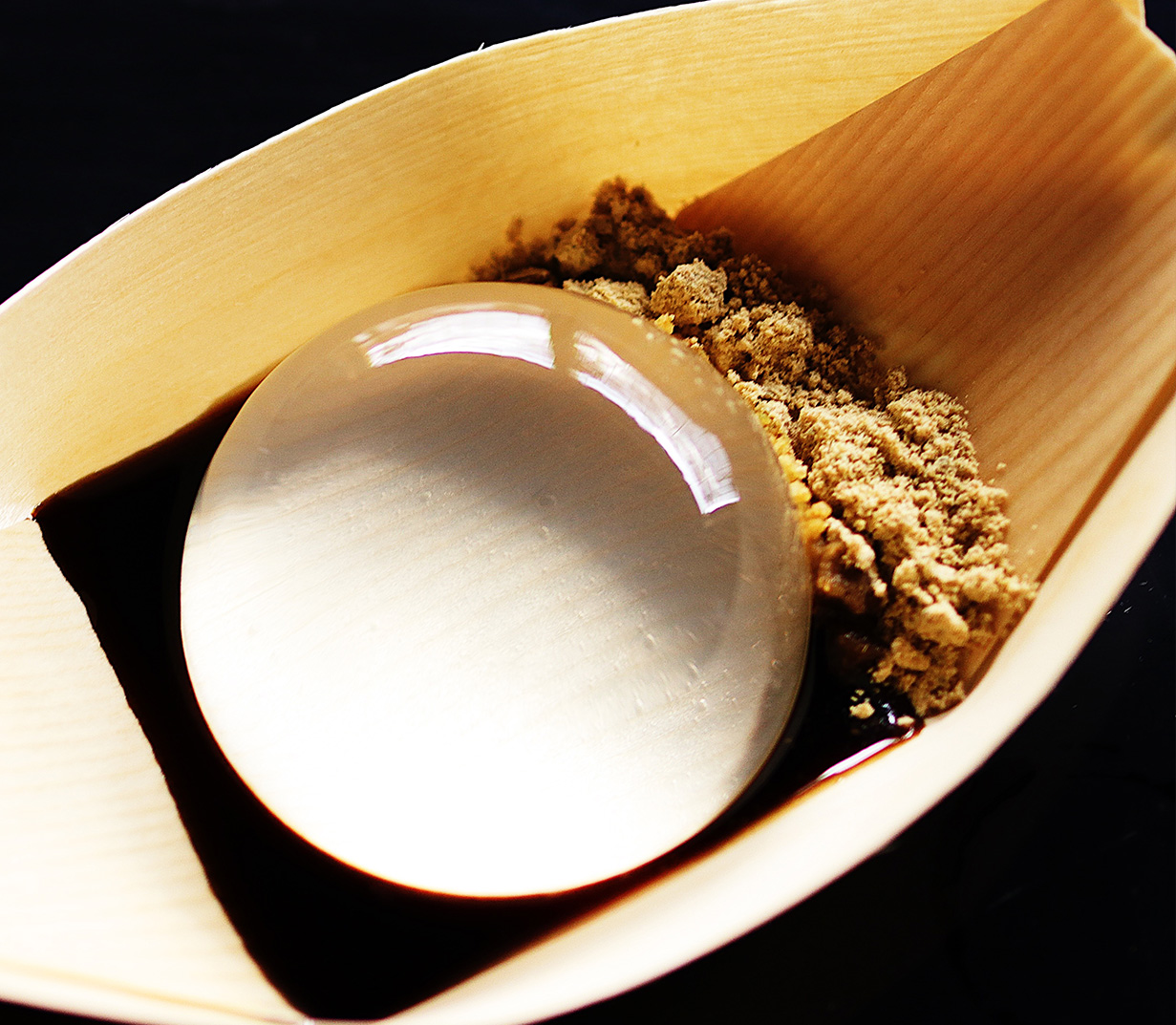 MIZU SHINGEN MOCHI
Sold for a limited time,
limited quantity and limited dates.
A fantastic Shingen Mochi rice cake
that can be eaten only during the summer.
To give you a taste of natural underground water, filtered throughout the decades by picturesque mountains, we use a small amount of agar to capture its flavor. This is the ultimate Shingen Mochi, containing the best water in Japan to the limit. It is sold only during the summer season from June to the end of September every year. During this period, the fantastic Shingen Mochi is sold only on Fridays, Saturdays, Sundays, and national holidays at our Daigahara and Nirasaki stores, and is kept as close to water as possible, a consumption period set to 30 minutes. Enjoy the "ultimate" texture with the gentle flavor of green soybean kinako (soybean flour), which we grow with our own hands.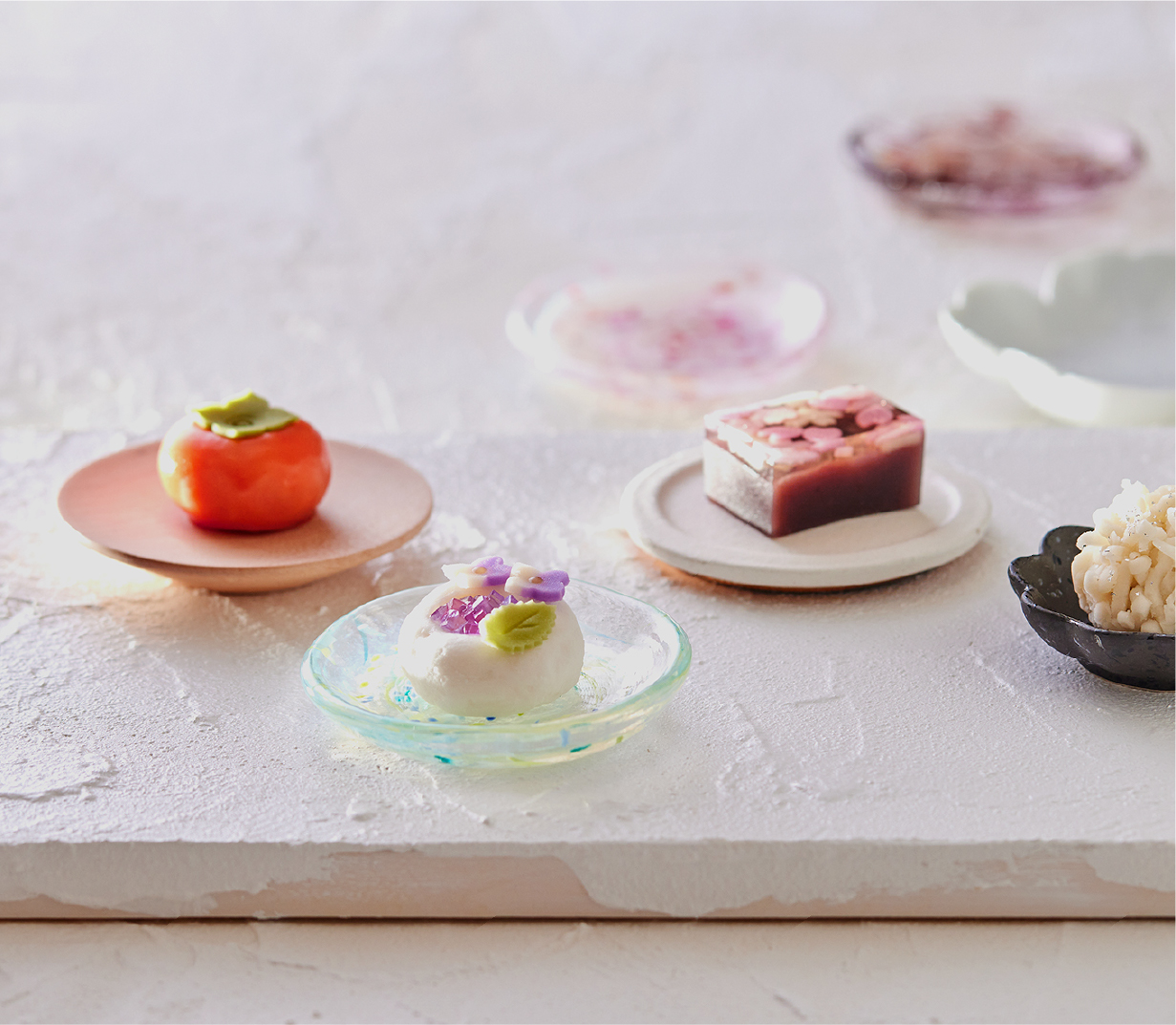 SEASONAL ITEM
Delicate and beautiful
Fresh confectionery from season to season
In Japan, there is a custom of using confectionery to express the season's flavors and views.
The tenderness of beans and rice, the intense aroma and taste of seasonal ingredients such as cherry blossoms and Japanese mugwort, the cool water confections that are pleasing to the eye, and a variety of tastes that celebrate the harvest. We believe it is the role of a confectioner to pass on the Japanese confectionery culture of seasonal changes, rich nature, and Japanese flavor. We aim to create confections that encourage people in their daily lives to savor the season with seasonal sweets that change monthly.
Our Commitment and Thoughts
We are particular about using safe ingredients because we want to make your loved ones smile. We make each confectionery carefully by hand to bring smiles to the faces of your loved ones.
We want to make your loved ones smile, so we convey the blessed nature of Yamanashi in our wagashi (Japanese confectioneries).
When people encounter delicious food, they naturally smile. We want to bring such smiles to as many people as possible. We have the confidence that our history, technology, and blessed nature prove.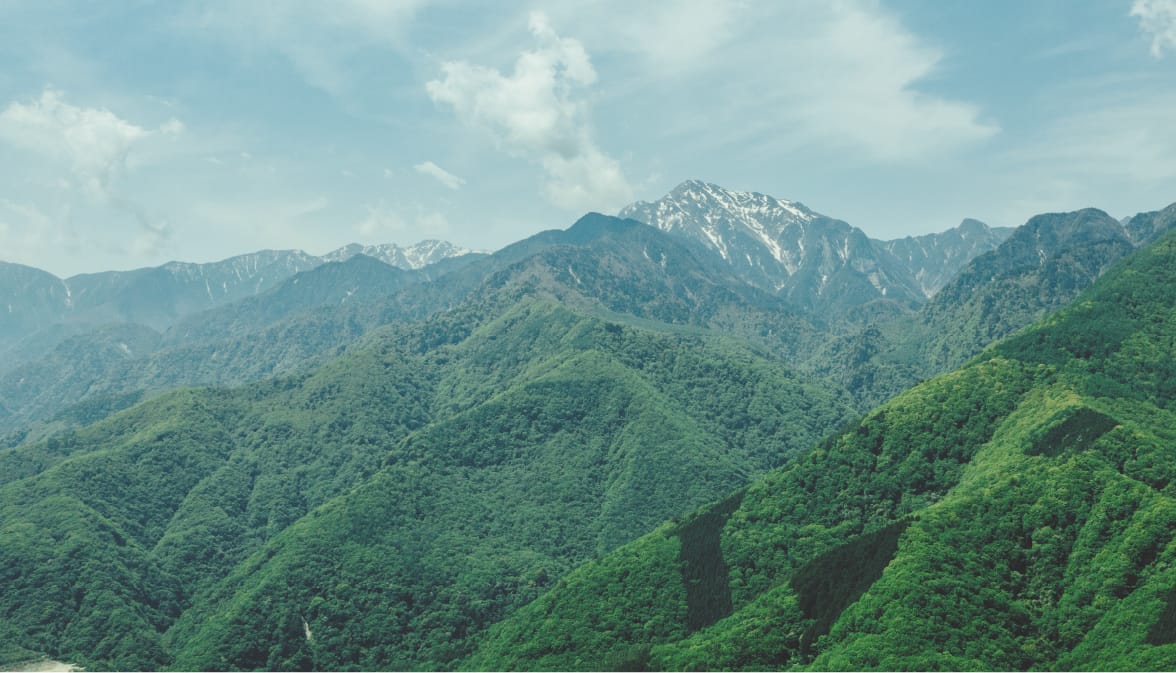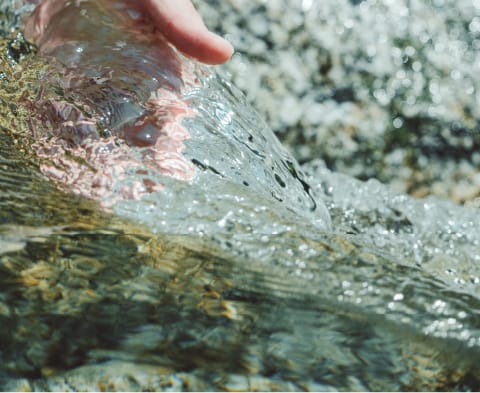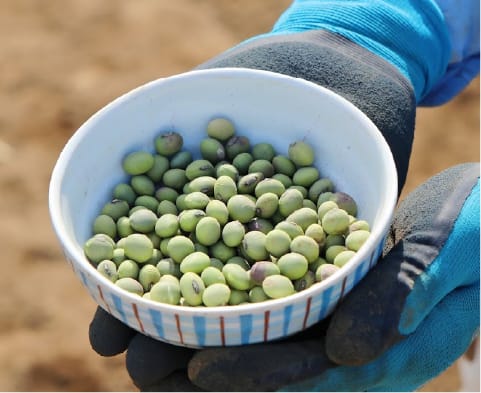 Hokuto City, Yamanashi Prefecture
A place with beautiful mountains,
rivers, and sky, and good air quality.
Located in the northwestern part of Yamanashi Prefecture, Hokuto City is a beautiful place blessed with nature and has four of Japan's best natural features: the best mountain scenery in Japan, the best habitat for the national butterfly Oomurasaki, "Great purple emperor", the countryside offers the tastiest water in Japan, and the longest daylight hours in Japan.
Hokuto City is home to five of Japan's 100 most famous mountains, and where the Oomurasaki butterfly dances gracefully in the deep green forests. The city is also home to three of Japan's 100 best mineral waters, and boasts the highest production of mineral water in Japan, with more than 2,500 hours of sunshine per year.
In this City, which is blessed with such natural beauty, Kinseiken's confections, made with natural subterranean water refined from the shining white granite rocks of the Mount Kaikoma in the Southern Alps (represented by the famous Ojira River), have been enjoyed by people together with the nature of this land without changing since the company was founded in 1902.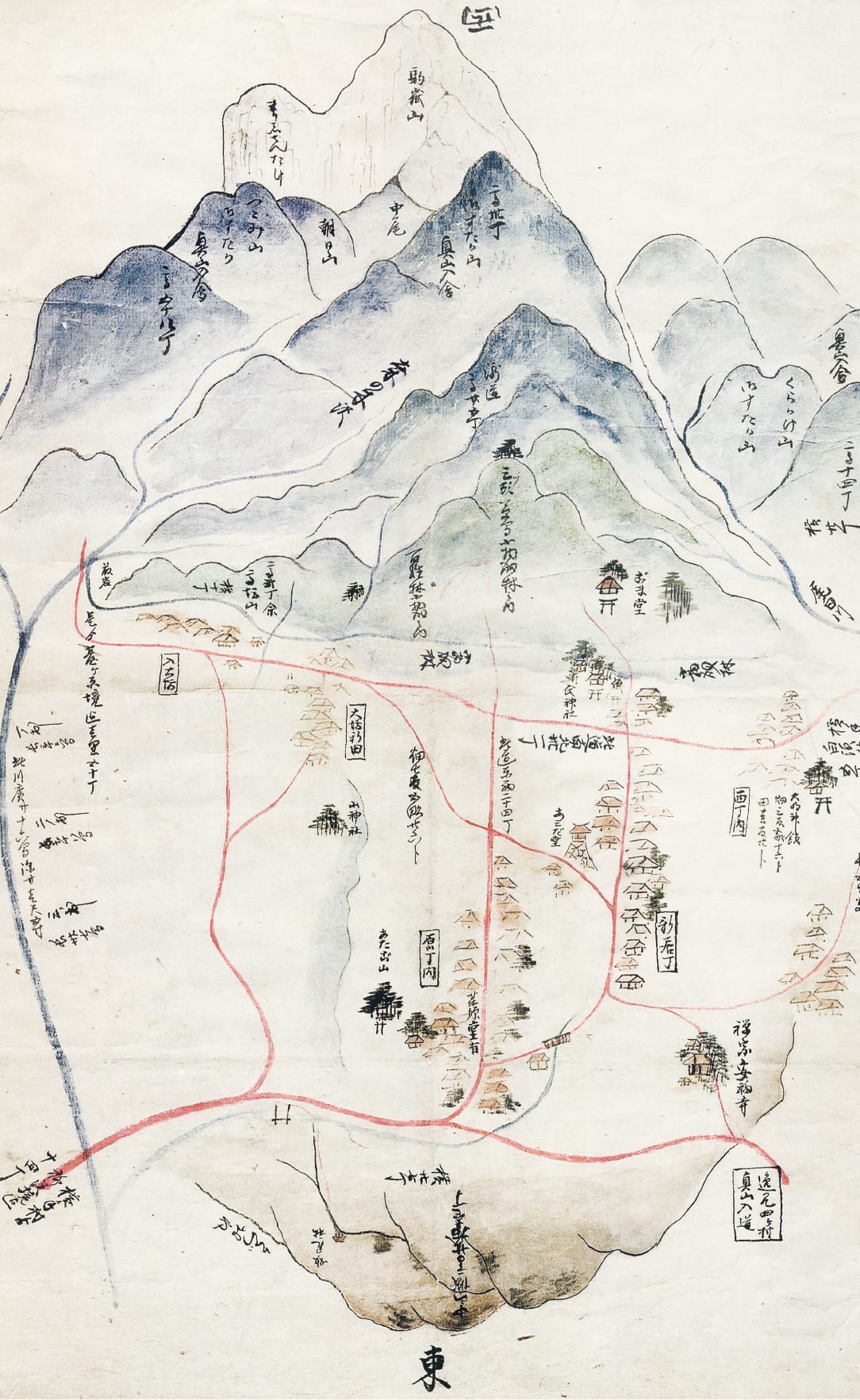 History cultivated in this area
Thoughts from Kinseiken,
celebrating 120 years in business
Shingen Mochi was inspired by the rice cakes that Shingen Takeda, the famous Kai ruler who made his name in the Sengoku era, used as emergency rations when he went into battle. Shingen Mochi was the main product of Kinseiken, which was founded in 1902 in a renovated inn at Daigahara-juku, a post town on the Koshu road.
In the midst of nature, including the famous water of the Ojira River, which is indispensable for making Shingen Mochi, and other blessings of nature, we have been creating with wagashi through a process of trial and error.
Today, 120 years later, we are making wagashi using safe and reliable ingredients and traditional methods, focusing on local production for local consumption. We want to make our customers as happy as possible in their daily lives. This desire has remained unchanged and has been passed down through the wagashi that our artisans painstakingly create.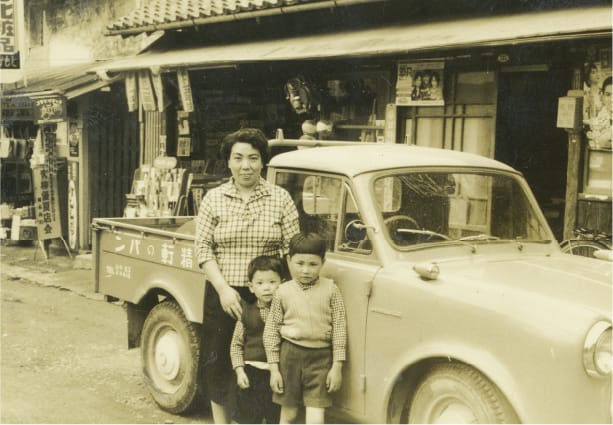 Our confectioner's Thoughts
Beyond Gratitude;
"Confections are Compassion"
The simple confections made by artisans with great care, using ingredients nurtured in the abundant sunlight and clear air of Hokuto City, where Kinseiken is located, have brought smiles to many people's faces with their never-ending deliciousness.
By loving everything while always being grateful for local nature, the ingredients grown there, and the farmers who do the farm work, the sweets we create will be filled with happiness.
Kinseiken's sweets have the power to heal and make people smile. This is because each and every one of us expresses our human power through sweets. We share our happiness with you by making sweets with local "deliciousness" focusing on local production for local consumption. We deliver sweets full of love that bring smiles to the faces of those who eat them.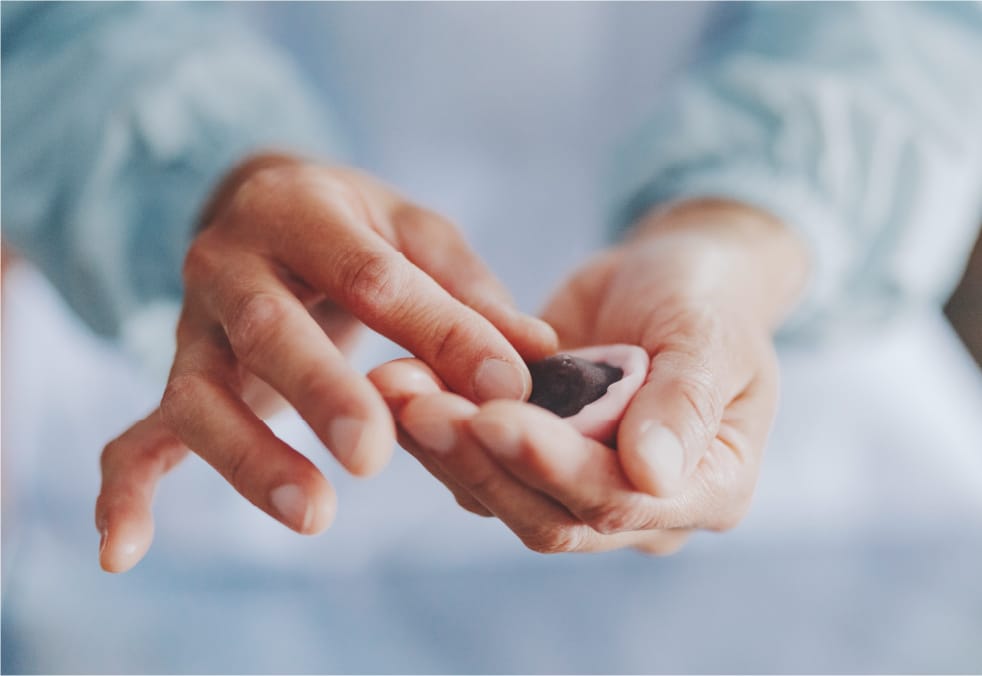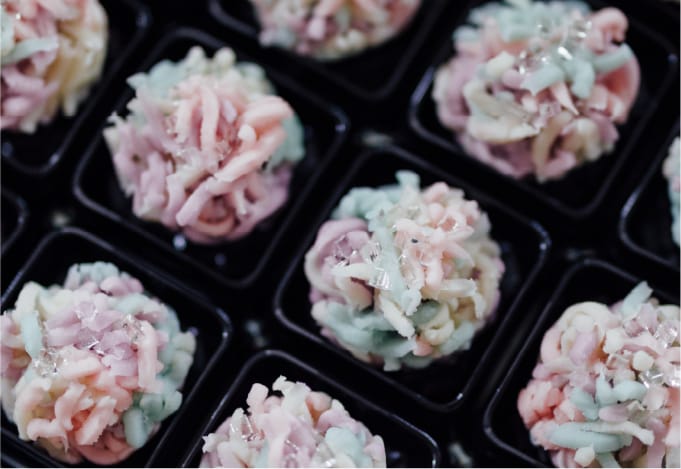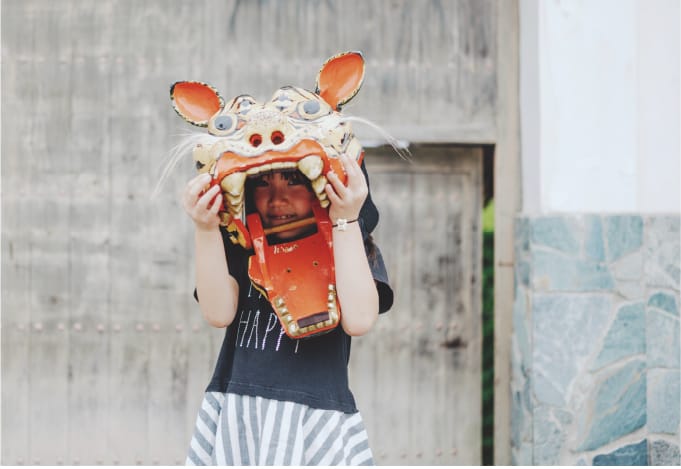 Surrounding Spots
Located about two hours by car from the Tokyo metropolitan area and two and a half hours from the Chukyo area, Hokuto City attracts many visitors throughout the year due to its easy accessibility. Our city is also known as one of the most beautiful mountain landscapes in Japan and as a famous water village. It is a rich natural spot with nearby Mt. Fuji, which is registered as a World Heritage Site, and a UNESCO Geopark.
There are many facilities to enjoy camping, mountains, rivers, and hot springs. Many chefs have moved to the area in search of delicious vegetables and fruits grown with the best water in Japan, and many French and Italian restaurants have opened in recent years. It has become a hot tourist area, with many people enjoying a gastronomic journey to pair with Yamanashi wines.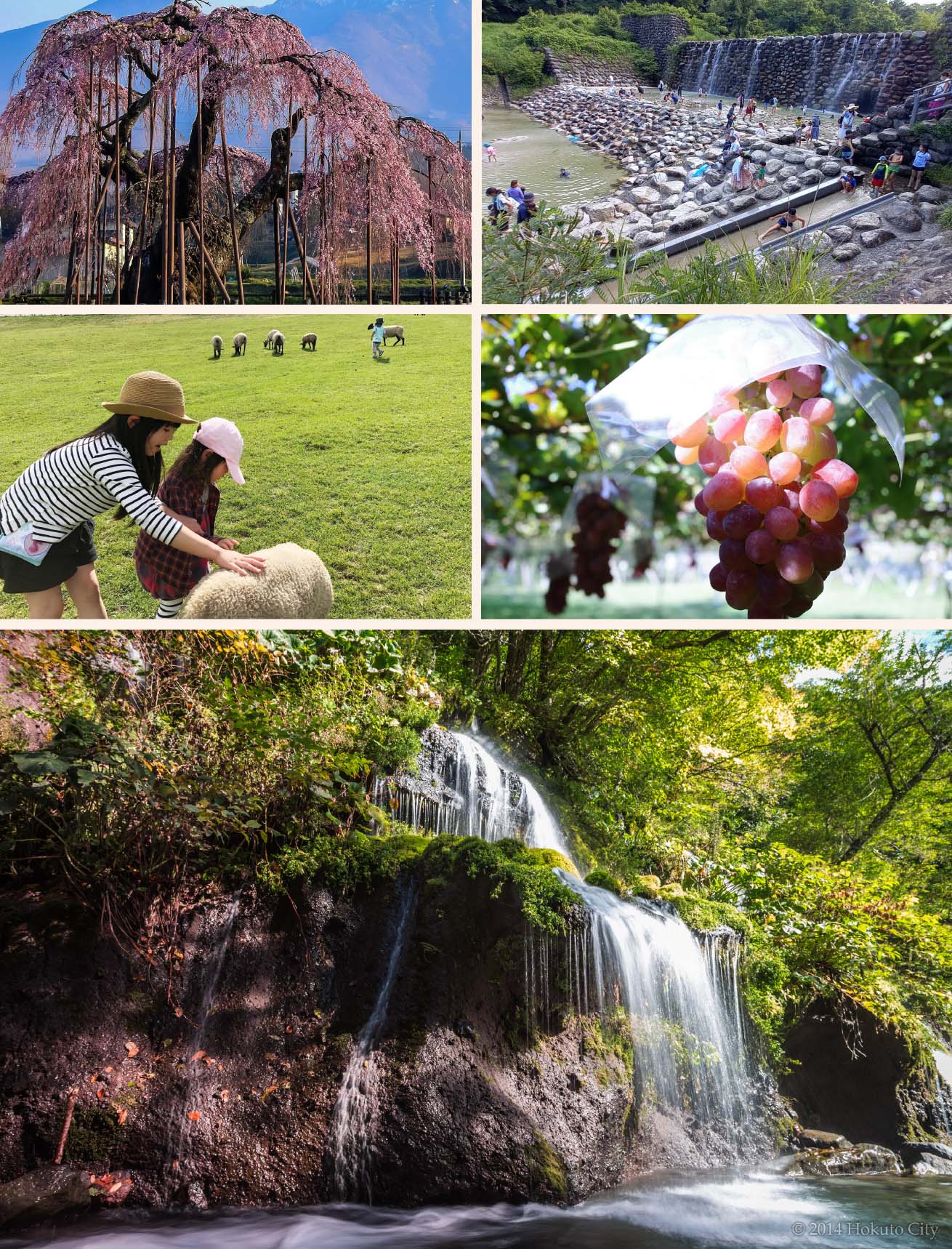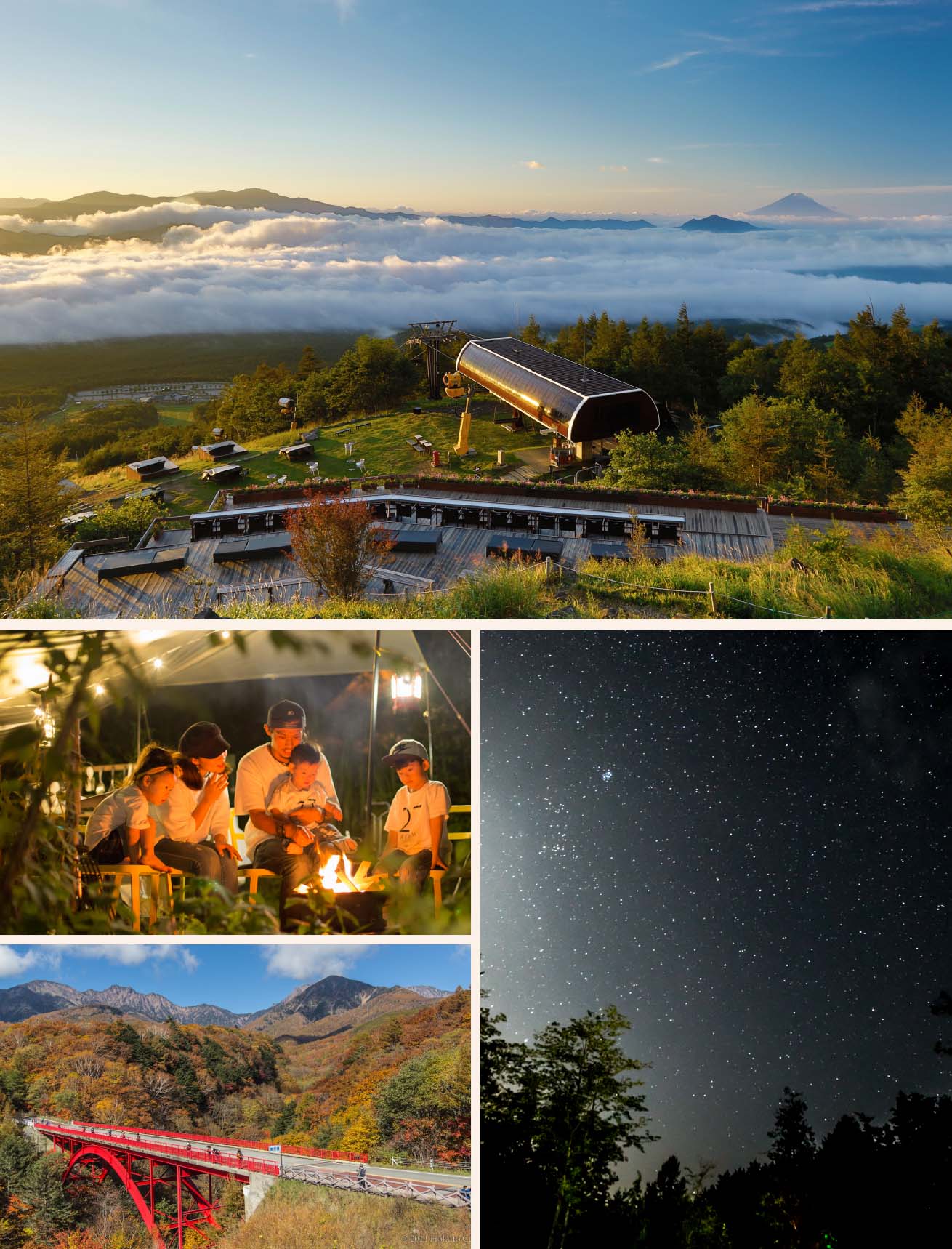 このページは、帝京第三高等学校・
Global Communication Clubの皆さんに
英訳していただきました。